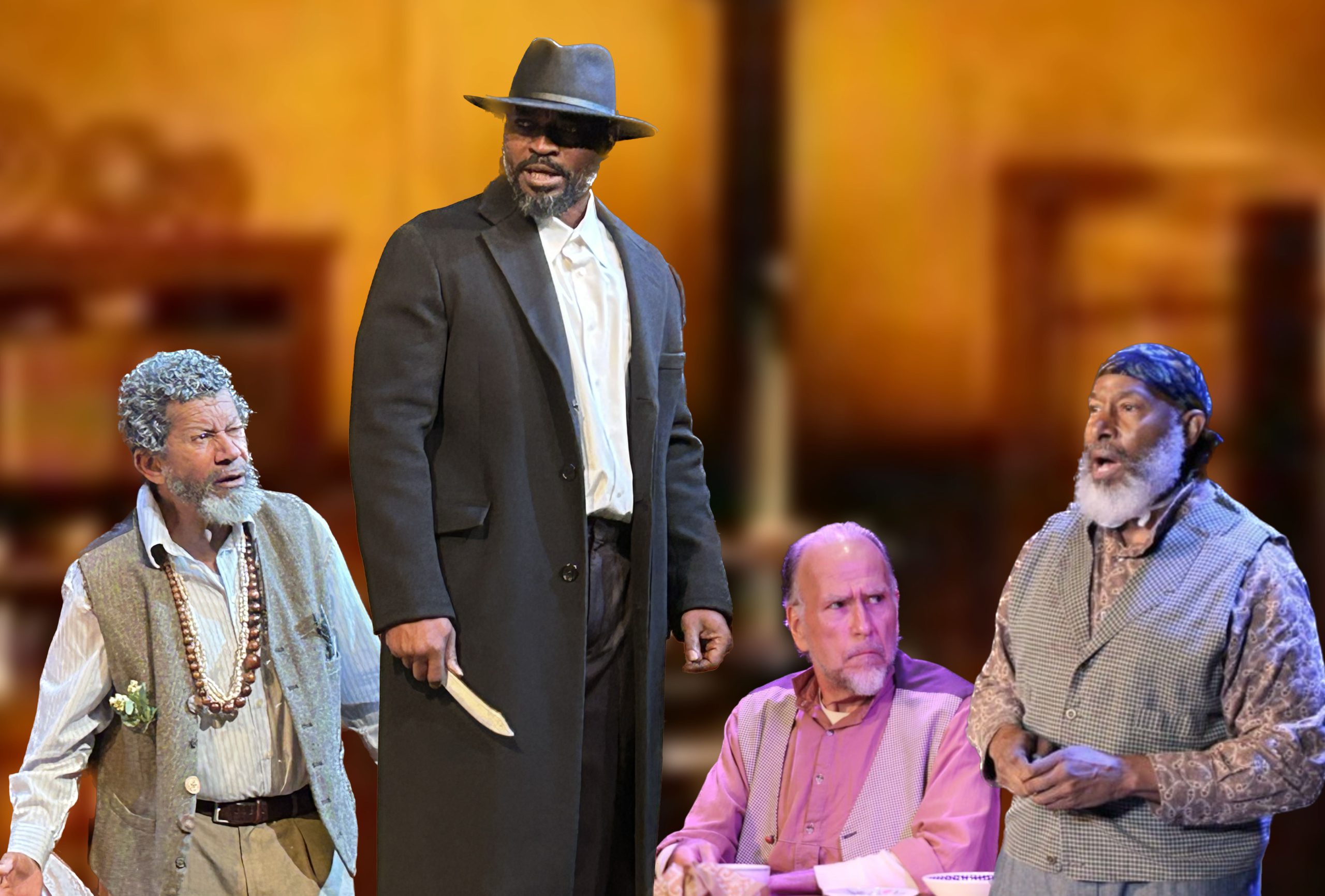 Joe Turner's Come and Gone
By August Wilson
Directed by Mark Clayton Southers
An outdoor production at August Wilson House, 1727 Bedford Avenue in the Lower Hill
August 5th – September 9th, 2023
A coproduction with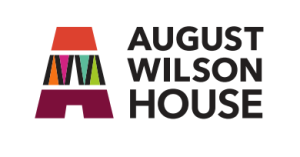 August Wilson's Tony-nominated drama set in a boarding house in Pittsburgh's Hill District in 1911. The play explores the lives of African Americans at the start of the Great Migration to the North as they seek their own identities and contend with racism and discrimination.
August Wilson's Tony-nominated drama is set in a boarding house in Pittsburgh's Hill District in 1911.

Director's Note
August Wilson's Joe Turner's Come and Gone has always been a much anticipated play to see.
Inspired by artist Romare Bearden's collage entitled Mill Hand's Lunch Bucket August Wilson crafted a story depicting the lives of African Americans right here in Pittsburgh's Historic Hill District. Seth and Bertha Holly's boarding house welcomes weary travelers that are fresh off the road from the Deep South. These folks wrestle with their new surroundings and the ways of the north. Of his epic ten-play American Century Cycle this play has his largest ensemble of characters – eleven in total. What's special about this play is that Mr. Wilson honors his grandparents and other relatives by including their names as characters. This was August's favorite play up until he penned Gem of the Ocean. Both plays have spiritual elements and take not only the characters but the audience as well on a journey through the Middle Passage. It's never fun to experience a holocaust, however, Mr. Wilson wrote about the journey in such a compelling and emotional way that helps all that witness it have a sense of the turmoil that Africans endured on their way to America.
I feel extremely lucky to have worked with a multitude of talented actors and behind-the-scenes folks that have made this journey extremely enjoyable. I hope that you enjoy our combined efforts.
Peace and much theatre love,
Mark Clayton Southers
Founder and Producing Artistic Director
August Wilson's Historic Hill
By Christopher Rawson
The 10 plays with which August Wilson conquered the American theater are called his American Century Cycle, since each is set in a different decade of the 20th century. But they are also called the Pittsburgh Cycle, since nine are set in a square mile of that city's Hill District and all 10 are rich with the voices and places, stories and passions that Wilson absorbed in the years he spent walking its streets and listening to the talk in its diners, barber shops, numbers joints and jitney stations.
The Hill is an active character in the cycle, as well as a literal crossroads and microcosm of Black America. It was a multi-ethnic melting pot. Roughly one-third Black, one-third Eastern European Jewish and one-third everything else, it grew to hold some 55,000 people. For Blacks, it was a city within a city, its commerce and entertainment spiced with music (a dozen native jazz greats), sports (baseball's Homestead Grays and Pittsburgh Crawfords, and Josh Gibson) and journalism (The Pittsburgh Courier, once the nation's largest Black newspaper).
But at mid-century the aging Hill was torn apart by urban renewal, followed by the fires that protested the 1968 assassination of Martin Luther King. Wilson, born in 1945, watched this decline. He had dropped out of school at 15 after bouts with racism, then educated himself at Carnegie Library before doing graduate studies in culture and politics on the streets of the Hill. By the time he moved to St. Paul in 1978, the Hill was broken, its population shrunken to under 15,000. In recent years it has been coming back. But in compensation for cruel history, it already lives in Wilson's art.
The result is that we now speak of August Wilson's Hill, a gritty urban landscape transformed by art into something mythic, like Faulkner's Yoknapatawpha County or Friel's Ballybeg. Writing from the distance of St. Paul and later Seattle, Wilson said he heard more clearly the voices from the street corners and cigar stores of his youth. And he kept coming back to Pittsburgh to dip the ladle of his art into this crucible of memory and inspiration, using the Hill as Shakespeare did England, as raw material to mold and shape. The result is stories rich in the "love, honor, duty, betrayal" that he said were at the heart of all his plays.
Along the way, Hill names, shops, streets and even addresses are adapted, hinted at or disguised. First comes 1727 Bedford Avenue where he lived with his family in two back rooms, later four, until he was 13 — a family that grew to include six children. His memories of the gossip and cardplaying in that backyard mark it as the setting for Seven Guitars. In front was Bela's Market, run by Eastern European Jews, and next door was the watch and shoe repair shop of the Italian Butera brothers, making the two houses an epitome of the early mid-century Hill.
Working on the 1999 premiere in Pittsburgh of King Hedley II, Wilson identified its setting with the backyard of his mother's final house just down Bedford. For the cycle's other backyard play, Fences, the best guess is across Bedford at the house of the retired fighter, Charlie Burley, who offers a close historical model for Troy Maxson.
The cycle's second most important location is 1839 Wylie Avenue, the faded mansion that is home to Aunt Ester, the seer supposedly born in 1619, when the first African slaves reached Virginia. In Gem of the Ocean, Aunt Ester's house serves as a modern station on the Underground Railroad of Black empowerment, and in Radio Golf it is central to the conflict between that past and the Black middle class. Wilson probably chose 1839 because it was the year of the famous Amistad slave ship revolt. Today, 1839 is a grassy vacant lot where Pittsburgh Playwrights Theatre produced the play in 2021.
The three Hill plays set in public spaces are naturally located in the business district on Wylie and Centre. In Two Trains Running, Memphis's Diner is near Eddie's Diner, Lutz's Meat Market and the West Funeral Home. The diner's address is later given as 1621 Wylie, many blocks away, but that number is just a tribute to the address where his mother died.
The most specific location belongs to Jitney, set in the jitney (gypsy cab) station at the corner of Wylie and Erin that long had the same phone number as in the play. Less specific is Radio Golf, set in a storefront office somewhere on Centre. For The Piano Lesson, the only clue is that Berniece and Avery take Maretha on a streetcar and drop her off at the Irene Kaufman Settlement House on their way downtown.
As to Joe Turner's Come and Gone, since the Hill slopes down to the southwest, references to "up on Bedford" and "down on Wylie" suggest the Hollys' fictitious boarding house is between them, on Webster Avenue. So Loomis is seen standing "up there on the corner watching the house … right up there on Manilla Street."
Wilson's only play not set on the Hill is Ma Rainey's Black Bottom, his first to reach Broadway. He later said that was because, being from Pittsburgh, he didn't think it sounded important enough. He was often furious with Pittsburgh, where life was hard. But all is transformed when Wilson welds comedy and tragedy to speak with prophetic passion across the American racial divide.
Christopher Rawson was chair of the American Theatre Critics Association and remains senior theatre critic for the Pittsburgh Post-Gazette, for which he wrote about August Wilson since 1984. This essay is adapted from one he wrote for Joe Turner in 2009 at New York's Lincoln Center. With Laurence Glasco, he co-wrote August Wilson: Pittsburgh Places in His Life and Plays (Pittsburgh History & Landmarks Foundation, 2nd Edition 2015).
About the Cast
Dionysius Akeem (Jeremy Furlow, through August 20th) Since being a part of last summer's Jitney here at the August Wilson House, Dionysius is proud to be working his fourth production with the Pittsburgh Playwrights Theatre. As a local, Dionysius has been featured in commercials, television and film around the area, most notably several spots for the Pennsylvania Lottery and recently reprising his role as Adonis Robinson in season 2 of Showtime's American Rust. As mentioned he is no stranger to the work of August Wilson. In 2016 he worked rehearsals alongside Denzel Washington and Viola Davis for their award-winning performances in Fences, filmed right here in the Hill District.
Michele Bankole (Bertha Holly understudy) is an African-American soprano of Creek descent raised in Eufaula, Oklahoma. Her soprano voice has been described as stunning and beautiful. Ms. Bankole has performed with Red River Lyric Opera, Tulsa Opera, as well as the Pittsburgh Festival Opera. She has also performed with Prime Stage Theatre in its production of I Know Why the Caged Bird Sings and its most recent production of Harriet Tubman and the Underground Railroad. Her most recent endeavor is co-founding The Colour of Song: A Vocal Arts Company and writing her first libretto. She lives with her husband in Wilmerding.
Dominique Briggs (Mattie Campbell) has appeared in numerous productions including A Man of No Importance, The Green Book, Kalopsia the Musical, The Ballad of Emmett Till, King Hedley II and as Nellie in Mark Clayton Southers' Savior Samuel in Pittsburgh, reprising her role on the National Black Theater Festival stage. Film appearances include Southpaw, House of Stones and Set Free. Dominique is also a children's author, writing her first children's book, Rhea the Great Detective and the Case of the Missing Mrs. Bearington, released March 2019, then later converted to a TV/film pilot in March 2021. Ms. Briggs was also the artist resident at the Children's Museum of Pittsburgh where she featured another Rhea the Great Detective story using the museum's exhibits as tools for immersive storytelling and play. When not acting or writing, Dominique loves performing as a voiceover artist and advocate for the arts.
Kevin Brown (Seth Holly) is extremely excited to be cast in the Pittsburgh Playwrights production of Joe Turner's Come and Gone. This is a homecoming of sorts for Brown, and marks the 8th August Wilson production in the 10 play century cycle that he's completed. The majority of this year Brown has been on the road. Most recently Brown was seen as Pops in the Atlanta Georgia production of GodGuys, produced by uNiqu' Arts and Expected End Entertainment. Brown portrayed Hedley in the co-production of Seven Guitars with the Milwaukee Repertory Theater Company and the Cincinnati Playhouse in the Park Theater Company. Brown portrayed Ben Loman in Death of a Salesman, a co-production with the University of Nebraska and the St Louis Black Repertory Company. Also as Becker in Jitney with the St Louis Black Repertory Company, where Brown received a nomination for best actor by the St. Louis Theater Circle of St Louis Missouri. Brown is represented by the Talent Group and thankful to be a member of Pittsburgh's supportive artist community. For Art sake!!
Kymir Cogdell-Freeman (Reuben Mercer at some performances) is 15, was born in Pittsburgh Pennsylvania, educated at Dilworth Elementary K-5 and is currently attending Pittsburgh CAPA 6-12 where he studied theater, musical theater, and is currently majoring in dance. He has portrayed many characters in his summer camp EECM plays, but in 2021 he had his first lead role, playing Daniel in the EECM camp production called The Fight To Be Your 'Best'! Kymir has also appeared on stage as a featured performer in CAPA's Winter Wonderland and CAPA's Willy Wonka middle school musical in 2019. Kymir wants to pursue his acting career and someday appear on television!
Cameron Edwards (Reuben Mercer at some performances) is an 11-year-old vocal major at Pittsburgh Creative and Performing Arts (CAPA). In his spare time, he enjoys singing, playing chess, creating art, and traveling. His musical career started in Kindergarten at Sunburst School of Music in Squirrel Hill. He took guitar lessons, and performed Ed Sheeran's Thinking Out Loud and The Beatles' Come Together. At Sunburst, he learned the guitar, the piano, and the keyboard. He also wrote and performed his own song. His vocal lessons were the start of something that he enjoyed. His acceptance into CAPA for vocal was a great achievement for him. At CAPA, he played Tommy in Matilda Jr. He played Cogsworth in Pittsburgh Musical Theatre's Beauty and the Beast Jr. He has played in two original productions for Accent School of Music where he played a superhero named Triple Time. This is his first professional acting assignment. Cameron would like to thank his parents Mr. and Mrs. Edwards, his brother Cayden, and grandmother for their constant support.
Meleana Felton (Molly Cunningham understudy) is a local Pittsburgh actress who has a great love for August and his works. As she embraces the understudy role as Molly Cunningham, she relishes the chance to collaborate with extraordinarily talented artists.
Charlie Gray (Jeremy Furlow understudy) started his acting career 3 years ago in the independent film market. In the past 2 years, he's one out of the three CEOs and Producers for 3.B.T. Productions. As an actor, he was the lead for a few short films and web series and is striving to become a better actor. He's grateful to work with Pittsburgh Playwrights and in the theater world.
Jamaica Johnson (Molly Cunningham), a performer, writer and spoken word artist from Pittsburgh's Hill District, placed in the annual August Wilson Monologue Competition twice and is a lover, obsessor and faithful performer of August Wilson's work. Has performed and made appearances at over 20 events and performances including Seussical the Musical, Joe Turner's Come and Gone, Double V, As You Like It, A Midsummer Night's Dream and Baby the Musical. Also, she has directed Finding The Kingdom, by Devantae Butler, and co-directed Nine Days in the Sun, by Mark Southers.
Saniya J. E. Lavelle (Zonia Loomis at some performances) is growing up in the Hill District under the wings of her role models, Robert and Rachel Lavelle, and Robert and Phillis Lavelle. She's a proud Pittsburgh Public School District student, who loves to write, sing, act, dance, swim, and hang out with friends and family. In 6th grade, she performed in her school's production of Matilda Jr. as Hortensia (one of the little kids) and the understudy of Bruce. She recently performed with the Alumni Theater Company Young Artist Ensemble's production of In Your Feelings. Saniya is excited about this opportunity to learn from the cast and crew and perform in a famous production.
Sam Lothard (Seth Holly understudy) Born in Youngstown/Campbell Ohio, Sam is now a proud Pittsburgher. He is super excited to again perform another great August Wilson masterpiece. As a Pittsburgh Playwrights Theater veteran, you may have seen Sam as David in Mark Southers' award-winning film Cyril, August Wilson's Ma Rainey's Black Bottom, and King Hedley II. Other credits include: Dr Maya Angelou's I Know Why the Caged Bird Sings, Monteze Freeland's Kalopsia, John Steinbeck's Of Mice and Men, Pittsburgh Public Theater's Raisin in The Sun, and Shakespeare's As You Like It with PICT. It's a blessing to be a part of such a talented group of performers and having this opportunity to again work with my theatrical family as well as my new Arizona theater brothers Mike and Roosevelt. "Put God first. Shoot your shot. Chase your dreams." <Cedar Point> Big Sam
Shaunda Miles McDill (Bertha Holly) joined Pittsburgh Public Theater as Managing Director in February 2023. Shaunda has over a decade of non-profit executive and arts management experience, working for theater companies across the country, including The Goodman Theatre of Chicago, Pasadena Playhouse, and Cornerstone Theater Company. In 2006, she founded DEMASKUS Theater Collective (www.demaskus.com). Shaunda is a graduate of Dartmouth College (where she studied playwrighting with August Wilson and led the Black Underground Theatre Association) and Yale University's David Geffen School of Drama. Shaunda is an adjunct faculty member at Carnegie Mellon University and serves on the boards of Jada House International, Inc., the Office for Public Art, and Little Lumpy's Center for Educational Initiatives. She is a member of Alpha Kappa Alpha Sorority, Incorporated – Alpha Alpha Omega Chapter, and the Pittsburgh Chapter of the Pierians, Incorporated. She worships at Macedonia Church of Pittsburgh and is married to Pittsburgh native Sager McDill and the proud bonus mom to four children (Sager, Jr., Maria & Melanie, and Matthew). My mother needs a kidney. Her name is Janice Miles, and we are seeking a living donor. You don't have to be a perfect match to help! To donate: https://livingdonorreg.upmc.com/
Marcus Muzopappa (Rutherford Selig) has been performing, designing and directing with The Old Schoolhouse Players since 1994. He has also worked with other area theaters including Prime Stage, Little Lake, South Park, Stage 62, Rage of the Stage, Comtra, Olin Fine Arts Center, The Baldwin Players, and The State Theatre Centre in Uniontown. He is a proud recipient of the Donna Award for Best Actor in the '05 Pgh. New Works Festival production of Breakfast With Willie. Film credits include: Chris in Tom Dixon's The Korean, Johannes Decker in Simon Barracchini's Mason series, Lou Calzone in Pip&Lola's webseries The Soapranos, and Edward Pigford in Silent Tales for Carnegie Screenwriters. Previous Pittsburgh Playwrights credits include performances in The Double V, August Wilson's Gem of the Ocean, Corey Rieger's Stain, Wali Jamal's Legend of the Black Mariner, and for directing, Dorothy Six and Saint Clair Xmas. Marcus also directed Pittsburgh Playwrights' most recent production, 12:52 The Mike Webster Story.
Adjoa Opoku-Dakwa (Zonia Loomis at some performances) is thrilled to join the cast of Joe Turner's Come and Gone. She is an 8th grade theater major at Pittsburgh CAPA and has been in several productions at her school. Outside of CAPA, Adjoa's other roles include being a dancer in Hill Dance Academy Theater's Black Nativity, Pittsburgh Public Theater's A Christmas Story, and several productions with Hope Academy. In 2022 and 2023, Adjoa also won 1st place in the youth monologue and scene divisions, respectively, of the Pittsburgh Public's Shakespeare competition. She loves playing piano, singing, acting and dancing.
Karla Payne (Martha Pentecost) is an actor, voice-over artist, singer and poet who has appeared in countless productions for several theater companies, including The Barnstormers Theatre (NH), City Theatre Company (PA), New Hazlett Theater (PA), New Horizon Theater (PA), and Pittsburgh Playwrights Theater Company (PA), where she most notably appeared as Berniece in their 2015 production of August Wilson's The Piano Lesson. She most recently portrayed Beverly Jenkins in Chicken and Biscuits, produced by New Horizon Theater and was recently featured in a film short entitled As I Please, scored by the Grammy Award winning Pittsburgh Symphony Orchestra. Karla is a proud member of Alpha Kappa Alpha Sorority, Incorporated and The Pierians, Incorporated.
Maurice Redwood (Jeremy Furlow, from August 24th) is thrilled to return to the Pittsburgh Playwrights stage in this production of August Wilson's Joe Turner's Come and Gone. Born and raised in Pittsburgh, PA, he grew up in the Hill District and has resided in Pittsburgh all his life. His introduction to theater came in 2003 as assistant sound engineer for Pittsburgh Playwrights Theater Company's production of When The Water Turns Clear. Since, he has performed and worked, both on- and off-stage, on various productions and performances in Pittsburgh and the surrounding area. In 2014, Maurice co-founded Pittsburgh-based production company CREW Productions LLC, which provides production and media services to local artists, arts organizations and arts supporters. Maurice is also the owner of the Pittsburgh-based media and film production company Redwood Media Group LLC, established in 2019. Maurice, along with his brother Carter, are 2023 August Wilson Fellows at Duquesne University in partnership with the August Wilson House. Notable stage credits include August Wilson's Fences, August Wilson's Jitney (Pittsburgh Playwrights Theatre), One Flew Over The Cuckoo's Nest (Barebones Productions Co.), I Know Why The Caged Bird Sings (Prime Stage Theatre), Lower Ninth (Caravan Theatre of Pittsburgh), Too Heavy For Your Pocket, Freeda Peoples, Pill Hill (New Horizon Theater), Shakespeare's King Lear (Pittsburgh Irish & Classical Theatre) and Black Nativity (Shona Sharif African Dance & Drum Ensemble). "Many thanks to the visionary, Mark Southers, the cast, crew and most importantly my family. I'm honored and humbled to breathe life into Mr. Wilson's words."
Mike Traylor (Bynum Walker) is celebrating 50 years in the biz! Last summer he had the honor of performing Jitney at the opening of the August Wilson House. Mike has been in eight of Mr. Wilson's plays. Favorite roles include Estragon in Waiting for Godot, Shylock in The Merchant of Venice, and Booth in Topdog/Underdog. As a director, favorites include The Maids, Frozen, and A Midsummer Night's Dream, in which he also played Oberon. He has a degree in Theatre from NAU.
Roosevelt Watts Jr. (Herald Loomis) was last seen as Herald Loomis earlier this year at Phoenix Black Theater Troupe's Joe Turner's Come and Gone. He played Shealy in the stage play Jitney performed in the Hill District at the childhood home of August Wilson in Pittsburgh, PA August 2022. He has been a part of the performing arts for as long as he can remember from music, spoken word, public speaking and creative arts. Being "bit by the theater bug" in 2011's Revenge of A King, written by Herb Newsome, Roosevelt has acted in several productions with BTT. His most recent performances with BTT have been A Soldier's Play in Feb. 2022, Black Nativity 2012-2015, Radio Golf, Tommy J & Sally, Fences (understudy) and more. Roosevelt himself is a playwright, having written, directed, and produced three original stage plays (A Journey to a Purpose, History vs Struggle: The Ancestors Speak, and ASHA) as well as his Youth Theatre Workshops. He looks forward to continuing working and writing with hopes to complete acting in August Wilson's cycle of plays.
Alona Williams (Mattie Campbell understudy) is a writer/performer. She graduated from Chatham University with a degree in Creative Writing. She is excited for this opportunity to perform in her first August Wilson show. She would like to thank all of the cast, crew and all the supporters of this production.
Creative Team & Staff
About the Creative Team
August Wilson (Playwright, April 27, 1945 – October 2, 2005) authored Gem of the Ocean, Joe Turner's Come and Gone, Ma Rainey's Black Bottom, The Piano Lesson, Seven Guitars, Fences, Two Trains Running, Jitney, King Hedley II, and Radio Golf. These works explore the heritage and experience of the descendants of Africans brought to North America, decade by decade, over the course of the twentieth century.
These plays form a compilation entitled The American Century Cycle. Mr. Wilson's plays have been produced on Broadway, at regional theaters across the country and all over the world. In 2003, he made his professional stage debut in his one-man show, How I Learned What I Learned. His works garnered many awards including Pulitzer Prizes for Fences (1987) and for The Piano Lesson (1990); a Tony Award for Fences; Great Britain's Olivier Award for Jitney and Ma Rainey's Black Bottom, as well as seven New York Drama Critics Circle Awards for Ma Rainey's Black Bottom, Fences, Joe Turner's Come and Gone, The Piano Lesson, Two Trains Running, Seven Guitars, and Jitney. Additionally, the cast recording of Ma Rainey's Black Bottom received a 1985 Grammy Award, and Mr. Wilson received a 1995 Emmy Award nomination for his screenplay adaptation of The Piano Lesson. Mr. Wilson's early works included the one-act plays The Janitor, Recycle, The Coldest Day of the Year, Malcolm X, The Homecoming, and the musical satire Black Bart and the Sacred Hills. Mr. Wilson received many fellowships and awards, including the Rockefeller and Guggenheim Fellowships in Playwriting, the Whiting Writers Award, 2003 Heinz Award, was awarded the 1999 National Humanities Medal by President Bill Clinton, and received numerous honorary degrees from colleges and universities, as well as the only high school diploma ever issued by the Carnegie Library of Pittsburgh. He was an alumnus of New Dramatists, a member of the American Academy of Arts and Sciences, a 1995 inductee into the American Academy of Arts and Letters, and on October 16, 2005, Broadway renamed the theater located at 245 West 52nd Street – The August Wilson Theatre. Today, he is considered one of America's finest playwrights. New York Public Radio recorded all ten plays in The American Century Cycle at the Greene Space, casting many of the actors that worked on the original productions. PBS aired a documentary on Mr. Wilson entitled The Ground On Which I Stand, as part of the American Masters series. A feature film adaptation of Fences released in 2016 was nominated for the Best Picture Oscar and received many more awards. Mr. Wilson was born and raised in the Hill District of Pittsburgh, Pennsylvania and lived in Seattle, Washington at the time of his death in 2005. He is immediately survived by his two daughters, Sakina Ansari and Azula Carmen Wilson, and his wife, costume designer Constanza Romero, who is the executor of his estate.
Mark Clayton Southers (Director, Producing Artistic Director & Scenic Design) and his family reside in Pittsburgh's historic Hill District. He is an award-winning playwright, stage director, scenic designer, photographer and theatrical producer. He is the founder and producing artistic director of the Pittsburgh Playwrights Theatre Company where he has produced well over 175 full-length and one-act plays, including August Wilson's complete 10 play Pittsburgh Century Cycle. Favorite directing credits include Paul Robeson for the Griot Ensemble Theatre Company, Pill Hill for New Horizon Theatre, Dutchman for Bricolage Theater Company, Ma Rainey's Black Bottom and The Piano Lesson for American Stage Theatre, Gem of the Ocean for Human Race Theatre, Angry Black Man Poetry for Theatre Śląski, Passing Strange for Short North Theatre, Papa Doc for Trilogy Opera Company, Sty of The Blind Pig for The Banyan Theatre Company, A Soldier's Play for Phoenix Black Theatre Troupe, and Dorothy Six, Seven Guitars, VALU-MART, The Battle of Homestead and Jitney for The Pittsburgh Playwrights Theatre Company. He's also the resident August Wilson Cycle director at Pittsburgh's CAPA. For more info please visit www.markclaytonsouthers.com
Michele Lee Betts (Stage Manager) (Production @its Betts) "We are at places"
Nyla Betts (2nd Assistant Stage Manager) (Production @its Betts) "Thank you Places"
Ben Cain (Sound Designer) is an actor and sound designer. He is a huge fan and family member of PPTCO who is always honored to work with this company and Mark Southers. As an actor he can be seen on many shows including Bel-Air on Peacock, Long Slow Exhale on Spectrum/BET, Buried in Barstow on Lifetime and coming soon to Amazon Freevee, American Rust Season 2. Doing sound design is a passion that has grown over the years and he looks forward to doing more.
Cheryl El-Walker (Costume Designer, Makeup & Hair) is an award-winning costume designer and makeup artist who is also a veteran stage actor from Pittsburgh. She is the resident costume/makeup artist for the Pittsburgh Playwrights Theatre Company. Her creative work in various venues has earned her several Onyx awards from the African American Council of the Arts (AACTA): Best Make-up Artist (2007); Best Costume for a Musical for Christmas Is Coming Uptown (2008); Best Leading Actress for Freeman (New Horizon Theatre, 2008); Best Costume Design for a Play (Pittsburgh Playwrights Theatre Company, 2008, 2009, 2010, 2012) and the PPTCO 2012 Legacy Award. In 2013, Cheryl debuted another one of her skills and received PPTCO's Theater Festival in Black and White Award for Best Director. Most recently, Cheryl was seen in PPTCO's Savior Samuel as Virginia. Cheryl is an alumna of Point Park University and is pleased to announce that she has done costume, makeup and special effects for all ten August Wilson plays.
Latrice Lovett (Lighting Designer) is a native of Washington, DC who currently resides in High Point, NC. She has done lighting in several different genres of the performing arts including dance, theatre, musical theatre, live concerts and opera. She completed her bachelor's degree at North Carolina Central University in Technical Theatre. She has also received her MFA in Design & Technology from University of Missouri-Kansas City where she studied Lighting Design. She is currently creating lighting designs and working on other lighting projects under her company Lovett Lighting LLC.
Jameelah Platt (Assistant Costume Designer) is a full time interdisciplinary artist and arts educator. Her studio practice has a primary focus on painting and collage. Jameelah is a Pittsburgh native, with an educational background at the University of Art where she studied fine art and minored in film & cinema. She is the styling assistant for photographer and stylist Evangeline Mensah. She has assisted her in the styling & set dressing of music artist Clara Kent. Jameelah is currently the assistant of costume designer, actress and makeup artist Cheryl Walker.
Ashley Southers (Assistant Stage Manager) has always had a passion to pursue the arts. She loves working alongside her family at Pittsburgh Playwrights Theater Company. She considers herself a jack of all trades as well as a D-I-A-P (Do-It-All-Person). She graduated from Point Park University in 2018, with a Bachelor's Degree in English/Creative Writing. In her free time, she loves writing, watching movies, and hanging out with family, friends, and her dogs Cocoa and Bentley. She would like to thank her father Mark Southers for being an inspiration for her upbringing. She always enjoys challenging herself, and expanding her creativity through the arts.
PPTCO Staff and Board
See our staff and board members here.
Sponsors
Pittsburgh Playwrights Theatre Company thanks the following for supporting our season of plays and special projects:
Printed program design and editing by Michelle Belan.
Online program design and editing by Steven Doerfler.
August Wilson's Joe Turner's Come and Gone is presented by arrangement with Concord Theatricals on behalf of Samuel French, Inc. www.concordtheatricals.com