The Double V
By Carole Eglash-Kosoff
Directed by Mani Bahia
At the Trust Arts Education Center, 805 Liberty Avenue, 4th floor
May 14th-29th, Thursday through Saturday at 8 PM, Sundays at 3 PM (previews May 12th-13th)
In 1942, the Pittsburgh Courier newspaper published a letter by a 26-year-old reader, titled "Should I Sacrifice to Live 'Half American?'" and relating how he had been beaten while trying to enlist. The paper responded by starting a campaign to highlight the risks African-American soldiers were taking in World War II, while being denied their rights at home, and called for a victory not only over "aggression, slavery, and tyranny", as in the original V For Victory slogan, but also for a victory over racial inequality in the USA. A Pittsburgh premiere.
Theatre Festival in Black & White
Part of the Three Rivers Arts Festival
June 3rd-12th
At the Trust Arts Education Center, 805 Liberty Avenue, 4th floor
Festival coordinator: R. M. Lawrence
PPTCO's signature Theatre Festival in Black & White returns with a FREE selection of short plays, each paired with a director from a different background. The festival originally paired white playwrights with Black directors, and vice versa, but has expanded to bring together playwrights and directors who may have different religions, ethnicity, gender, sexual orientation, or access/disability needs, for example. This year's festival will also be an opportunity to showcase the talents who have been participating in our Ground Up Theatre training program, making the event a true building block of theatric development in Pittsburgh.
Co-presented with the Pittsburgh Cultural Trust as part of the Three Rivers Arts Festival, and free to the public! Each of the two programs includes three one-act plays.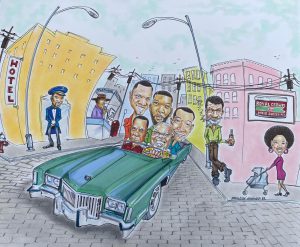 Jitney
By August Wilson
Directed by Mark Clayton Southers
An outdoor production at August Wilson House, 1727 Bedford Avenue in the Lower Hill
August 12th-September 18th, Thursday-Saturday at 8 PM, and Sunday at 5 PM
August Wilson's Jitney is a compelling drama which depicts the lives of the drivers at a jitney cab station in the Hill District in 1977. PPTCO last produced this August Wilson classic in 2010. Co-presented with August Wilson House.
Pittsburgh Playwrights Theatre Company thanks the following for supporting our season of plays and special projects:
Mid Atlantic Arts Regional Resilience Fund
Hillman Foundation
Allegheny Regional Asset District
Bloomberg Philanthropies
The Heinz Endowments
Advancing Black Arts in Pittsburgh
The Opportunity Fund
Pennsylvania Council on the Arts
The Pittsburgh Foundation
Richard King Mellon Foundation
Eden Hall Foundation