Subscribe to our 2017-18 Season!
Pittsburgh Playwrights Theatre Company presents three bold and powerful plays for our 2017-2018 season, and celebrates the return of our Theatre Festival in Black and White.
East Texas Hot Links by actor/playwright Eugene Lee (PPTCO's Two Trains Running, Pittsburgh Public's Between Riverside and Crazy) takes us to a 1955 backwoods cafe where a celebration can't conceal the lurking danger.
In The Heat of the Night is Matt Pelfrey's stage adaptation of John Ball's novel that introduced the world to Virgil Tibbs and inspired the well-loved films and TV series.
Joe Turner's Come and Gone is August Wilson's masterpiece, set in a Pittsburgh boarding house in 1911, which we will present outdoors at the historic August Wilson House.
We finish our season with the return of our signature Theatre Festival in Black and White.

Subscriptions are now available for our 2017-2018 Season. Save with one low price for admission to all three great plays! (The Theatre Festival in Black and White coming in Summer 2018 will be ticketed separately, and is not included in subscriptions.)
East Texas Hot Links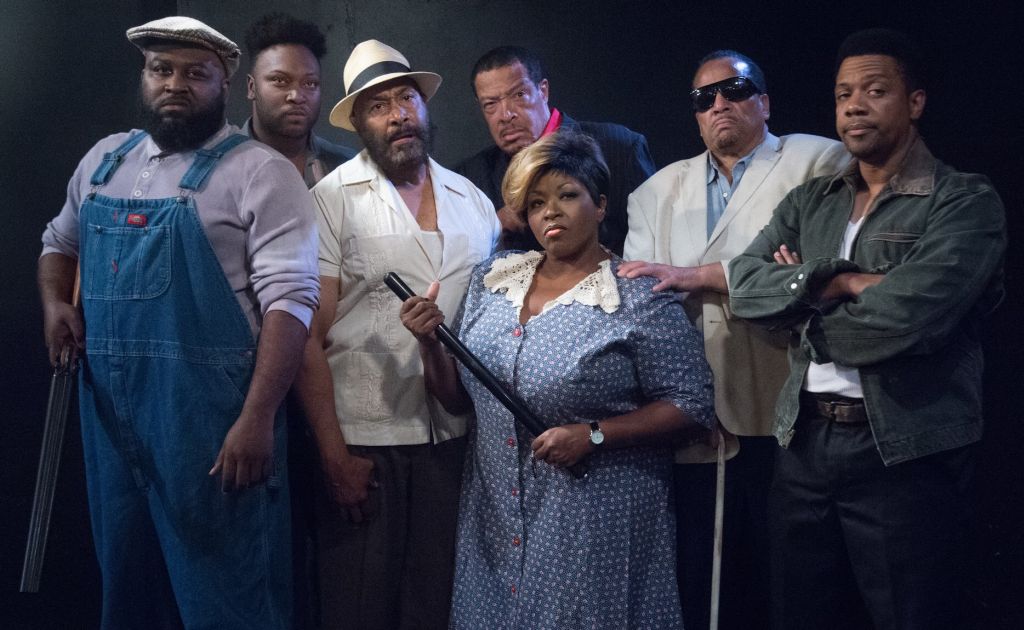 By Eugene Lee
Directed by Montae Russell
September 29th – November 5th, 2017
At our Cultural District theatre
"Unless the Royal Shakespeare Company brings its whole repertory to town, East Texas Hot Links is going to rank among the 10 best plays of the year. It's an intense experience in an intimate theater, acted with compelling authenticity."
– Christopher Rawson, Post-Gazette
It's summer, 1955, in the piney woods of East Texas where local men wander into Charlesetta's Top o' the Hill Cafe almost every night for comfort, solace and companionship. Times are changing, the Klan is active and young black men have been disappearing or turning up dead. This night, Delmus wants to celebrate getting a new job but the other regulars are skeptical. They try to warn him as they joke, feed the jukebox and play cards until betrayal catches all of them and life at Top o' the Hill is changed forever.
Starring:
Kevin Brown
Sam Lothard
Cheryl El-Walker
Jonathan Berry
Monteze Freeland
Chuck Timbers
Les Howard
Taylor Moss
Stage Manager: Tashia Scott-Terri
Reviews: Post-Gazette, Pittsburgh in the Round, City Paper, Burgh Vivant, Owl Scribe
More: Post-Gazette Preview, City Paper on PPTCO's longer runs
"Enchanting because of its sense of place and mesmerizing because it was astoundingly well performed, well-written and the direction by Montae Russell is sharp as a lilting rhythm." – Jason Clearfield, Pittsburgh in the Round
"East Texas Hot Links is a deceptive little play. It appears to be a humorous little concoction; a character study with men ruminating over the troubles of the day…. Then, Lee blows the roof off – literally and figuratively. It's a pot-boiler that explodes on the stove in the final few minutes."– Michael "Buzz" Buzzelli, 'Burgh Vivant
In The Heat of the Night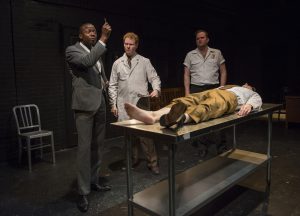 Adapted by Matt Pelfrey
Directed by Monteze Freeland
February 2nd – March 11th, 2018
Acclaimed playwright Matt Pelfrey's adaptation of John Ball's In the Heat of the Night based on the award-winning book that inspired the Oscar-winning film and the Emmy-winning television series.
It's 1962. A hot August night lies heavy over the small town of Argo, Alabama. A dead white man is discovered and the local police arrest a black stranger named Virgil Tibbs. The police learn that their prime suspect is in fact a homicide detective from California. As it happens, Tibbs becomes the racially-tense community's single hope in solving a brutal murder that is turning up no witnesses, no motives, and no clues.
Joe Turner's Come and Gone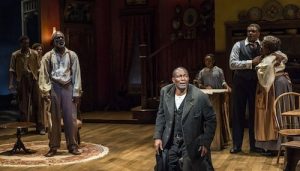 By August Wilson
Directed by Mark Clayton Southers
On location, outdoors at the August Wilson Home, 1727 Bedford Avenue
April 27th – June 3rd, 2018
Set in a black boarding house in Pittsburgh in 1911, this drama by the author of The Piano Lesson, Seven Guitars, and Fences is an installment in the author's series chronicling black life in each decade of this century. Each denizen of the boarding house has a different relationship to a past of slavery, as well as to the urban present. They include the proprietors, an eccentric clairvoyant with a penchant for old country voodoo, a young homeboy up from the South, and a mysterious stranger who is searching for his wife.
13th Theatre Festival in Black and White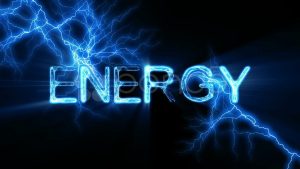 Theme: Energy!
Cheryl El-Walker, Festival Coordinator
May 31st – June 10th 2018
Our signature one-act theatre festival returns for its thirteenth year with another selection of entertaining short plays.
Photo credits:
East Texas Hot Links cast photo by Gail Manker
In the Heat of the Night, produced by Shattered Globe Theatre, Photo by Michael Brosilow.
Joe Turner's Come and Gone, produced by Mark Taper Forum, Photo by Craig Schwartz.
Help Us Grow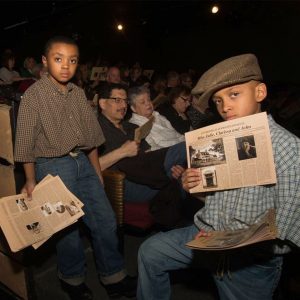 Pittsburgh Playwrights Theatre Company is committed to developing and showcasing the works of local playwrights; from accomplished masters like August Wilson and George S. Kaufman to promising new talents.
Keepin' up with Playwrights
Pittsburgh and St. Louis casts of Miss Julie, Clarissa and John meet in St. Louis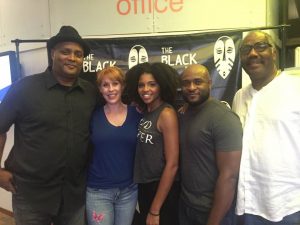 September 2016: The Black Rep in St. Louis, the largest professional African-American theatre company in the nation, opened its 40th season with Pittsburgh playwright Mark Clayton Southers' Miss Julie, Clarissa and John. The production was picked up after its world premiere at Pittsburgh Playwrights Theatre in March 2016. Miss Julie received rave reviews both in Pittsburgh and St. Louis!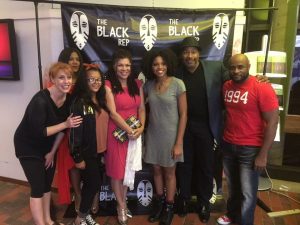 Veteran actors Crystal Bates (Clarissa) and Kevin Brown (John) from the first production of Miss Julie traveled to the Midwest to give support to the sophomore production and had an opportunity to see their characters played by different actors.
Playwrights hopes to keep the momentum going and see more productions of Miss Julie, Clarissa and John on national and international stages in the future.
PPTCO World Premiere Miss Julie, Clarissa and John heads to Edinburgh Fringe Festival, National Black Theatre Festival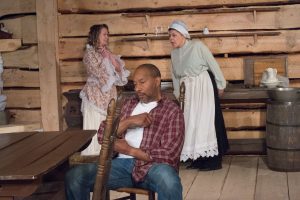 March 2017: Pittsburgh Playwrights Theatre Company will travel this summer to the prestigious Fringe Festival in Edinburgh, Scotland and the National Black Theatre Festival in Winston-Salem NC, with last season's hit play Miss Julie, Clarissa and John by Mark Clayton Southers. The production will feature its original cast, pictured here: Chrystal Bates, Kevin Brown and Tami Dixon.
We have received a generous matching grant of $10,000 for this production. You can double the impact of your donation by donating today.
Our productions are also supported by: