The Ray Werner Play Festival
November 8th through December 2nd 2018
At Pittsburgh Playwrights Theatre
Five plays, five stories, five chances to see each one. All tickets $15, celebrating our 15 year anniversary. Or buy a festival pass for only $50 and see them all!
A Capuchin missionary drives a stake into the heart of celibacy. A teenager with Tourette Syndrome brings chaos, along with redemption, to a troubled Catholic High School. In the far West of Ireland, a miracle of the Blessed Mother backfires. So does a scheme to cheat a deaf and dumb tinker fiddler. And a child's Christmas story prepares a family for some unexpected guests.
Five world premiere plays from Pittsburgh's own Ray Werner:
SumiSami
Raphael's Angels
Our Lady of Drubbleduffy
One Acts (Christmas Tassel Bell and The Stuttering Pig)
Individual tickets (linked above) are just $15, or buy a festival pass for only $50 and see all four evenings.
Help Us Grow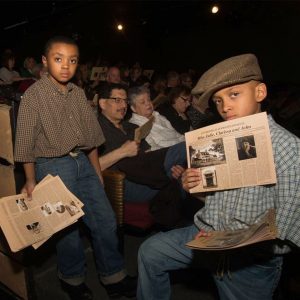 Pittsburgh Playwrights Theatre Company is committed to developing and showcasing the works of local playwrights; from accomplished masters like August Wilson and George S. Kaufman to promising new talents.
Our productions are also supported by:

And by:
The August Wilson Center-African American Cultural Center
The Opportunity Fund
Advancing Black Arts in Pittsburgh Fund
*Appears courtesy of Actors' Equity Association