Pittsburgh Playwrights Theatre Announces Grants to Local Playwrights
The Executive Board of the Pittsburgh Playwrights Theatre Company and its Founder and Producing Artistic Director Mark Clayton Southers are proud to announce that they are presenting $10,000 in grants to nine local playwrights to assist them in their current playwriting projects, as well as to support one new production of an existing work.
PPTCO's performance space is currently being remodeled, and delays in this process have led us to postpone our planned Spring 2020 production, which would have closed our sixteenth season. Instead, PPTCO has decided to offer these grants to encourage and support local playwrights.
After very successful productions of August Wilson's Gem of the Ocean and LeLand Gantt's Rhapsody in Black, Mr. Southers made the decision to move our 2019-2020 season's third and final play, Dr. Kyle Bostian's world premiere Pyramid Builders, to open our 2020-2021 season this fall.
Board President Dr. Michael Ramsay said, "It is our hope that these grants to local playwrights help them in honing their scripts through readings and productions."
These are the nine playwrights who have received $1000 grants:
1. Ty Greenwood, for his play "Death Dream".
To be performed at Kelly-Strayhorn's Alloy Studios on April 3rd, 2020. "Jabari has two voices inside his head, Ebony & Ivory. These voices are his conscience, so he says. We journey through various depths of Jabari's mind as he recounts traumatic experiences in his life." More info.
2. Kimberly C. Ellis, Ph.D., for her play "AfroRoma: A Love Story".
Work in progress. "A Pan-African love and travel narrative and romantic, musical comedy about an African-American woman who travels to Europe to explore the African Diaspora and finds both romance and a sisterhood of goddesses."
3. Lissa Brennan, for part 2 of her "Grist From The Mill" trilogy, "1943".
Premieres at Carnegie Stage on April 24th and 25th. A storytelling work in which in the steel mills of Southwestern Pennsylvania play a pivotal role, inspired by the murder ballads of Irish folk tradition and informed by regional history. Tickets and info.
4. Sharon Flake, for her play "The Skin I'm In".
To be performed May 1st-10th 2020 at Alumni Theater Company. Sharon G. Flake adapts her acclaimed first novel "The Skin I'm In", published in 2000 by Hyperion Books. It depicts the story of seventh-grader Maleeka Madison who has low self-esteem because of her dark skin color. More info.
5. Jamaica Johnson, for her play "Untitled".
Work in progress. "The endeavor to survive is a constant battle between black youth and society. The everyday life of black teens in America almost seems like a drama itself. Death, broken homes, pressure of society, stereotypes, racism, colorism and much and the everyday lives of black teens are painted through dance, spoken word, song and theatre."
6. Kyle Bostian, for his play "Pyramid Builders".
To be produced in Fall 2020 by Pittsburgh Playwrights Theatre Company. "Ancient myths. Modern agriculture. Tribalism. War. Climate change. White supremacy. In 2012 and 2032, two diverse sets of characters experience the impact of these things on their lives in an exploration of the rise — and fall? — of civilization."
7. Alumni Theater Company, for the ATC New Works Showcase.
To be performed March 6-7, 2020 at Alumni Theater Company. Excerpts of new works created by the ATC Professional Ensemble. More info.
8. Judy Meiksin, for her play "Seeking Transparency".
Work in progress. "A gifted young woman who believes she has no chances in life reinvents herself as she is professionally groomed for the field of science by an unscrupulous professor."
9. Deonna Dykes for her play "Black History Month: A Homage to our Ancestors".
To be performed February 29 and March 1 2020. "Four teens explore the nature of their ancestry through a series of poems and monologues. They grow to appreciate their history and pay homage to their fallen ancestors." Tickets and info.
10. In addition, the August Wilson Society received $1000 to support its production of August Wilson's "How I Learned What I Learned" at the August Wilson Center on March 13, 2020 at 8 PM.
Written and originally performed by August Wilson himself in 2003, "How I Learned What I Learned" is the autobiographical story of a young black artist's journey through the hardships of growing up in the Hill District, ultimately leading to his success as a writer. Tickets and info.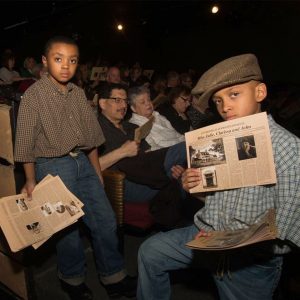 Pittsburgh Playwrights Theatre Company is committed to developing and showcasing the works of local playwrights; from accomplished masters like August Wilson and George S. Kaufman to promising new talents.
Our productions are also supported by: