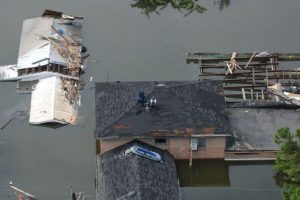 By Michael A. Jones
Directed by Wali Jamal
May 6th – 21st, 2017
World Premiere!
It is 2005. Two men cling for life on a rooftop, surrounded by murky water, festered with disease and the unknown.  Two women are hundred of miles away, striving to see their dreams of life, love and the pursuit of happiness come to fruition.  All of this set against the threat of one of America's greatest disasters.
Tickets are only $22.50, with no ticketing fees or surcharges. You will receive an email from us with a ticket to print and bring to the theatre. (No printer? No problem. Your name will be on a list at the theatre.)
PayPal note: To pay without setting up a PayPal account, click "Don't have a PayPal account?" or "Pay with a debit or credit card, or PayPal Credit" on the next page. Then select the type of card you will use.
Sun
Mon
Tue
Wed
Thu
Fri
Sat

Hercules Didn't ... : May 2017


At the Pittsburgh Playwrights Theatre
937 Liberty Avenue, 3rd floor

May 6

8 PM Opening

May 7

3 PM

May 12

8 PM

May 13

8 PM

May 14

3 PM

May 19

8 PM

May 20

8 PM

May 21

5 PM