November 2008: Interesting Times, by Jerry Starr. Ran November 14-23. With Corey Rieger, Chris Josephs, Erin Perry, Debra Gordon, Vince Ventura, Nathan Hollabaugh, and Marcus Muzopappa.
Review: Post-Gazette
Also: reading of Buried: The Sago Mine Disaster, by Jerry Starr, directed by Marci Woodruff, on November 16. With Doug Mertz, Karen Baum, Bruce Hill, Deb Gordon, and Ken Bolden.
October 2008: The Best of the Theatre Festival in Black and White, Pittsburgh Playwrights' signature event, featured the most outstanding B&W plays of PPTCO's past five seasons—the best of the best. Supported by the PA Council on the Arts, RAD, MCAI, and the Greater Pittsburgh Arts Council. Festival Coordinators: Eric A. Smith & Quentin "Q" Marshall. Ran October 16th through October 30th, 2008.
The Holding Cell. By Wali Jamal. Directed By Marci Woodruff. (2006 Audience favorite)
The Other Side. By Bob Gorczyca. Directed By Mark C. Southers. (2005 Winner)
Half of Zero. By Amy Hartman. Directed By Wali Jamal. (2003 Audience favorite)
Bones. By Javon Johnson. Directed by Mark Whitehead. (2003 Winner)
F.O.R.D. By David Turkel. Directed by Kim El. (2006 Winner)
Pieces. By Vanessa German. Directed by Corey Rieger. (2004 Winner)
A Question of Taste. By Andrew Ade. Directed By Ron Black. (2007 Winner)
Review: City Paper
September 2008: Dorothy 6, by James McManus, directed by Marcus Muzopappa, ran September 11 through October 5. With John Gresh, Paul Stockhausen, Nathan Hollabaugh, Claire Fraley, Judy Kaplan, and Deanna Tangeman.
Reviews: City Paper, Post-Gazette
June 17 2008: PPTCO hosted the 2008 Pittsburgh Pride Play Festival, an evening of 6 plays written and performed in semi-24 hour theatre style.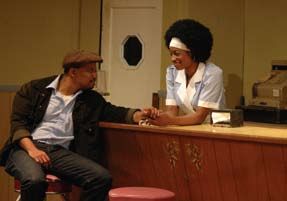 May 2008: Two Trains Running, by August Wilson, directed by Mark Clayton Southers, ran May 10 through June 8. With Anthony Chisholm, Sala Udin, Wali Jamal, Eugene Lee, Jonathan Berry, Lonzo Green, Les Howard, and Sharnece Thomas.
Press coverage: Post-Gazette preview article
Reviews: Post-Gazette, Tribune-Review, City Paper, New Pittsburgh Courier, WRCT
April 2008: Hosted a Caravan Theatre of Pittsburgh production of Risk Everything, by George F. Walker, directed by John Gresh. The production featured Sharon Brady, Dana Hardy, Tony Bingham and Mark Conway Thompson.
February 2008: Spring Reading Series.
Grant Bojarski, series coordinator.
February 1: Pennsyltucky, by Sloan MacRae.
February 2: Does He Or Doesn't She, by Dave Gassman.
February 4: TBA, by Robert Isenberg.
February 5: Human Interest, By Jason Hall
February 8: Mother Tongue, by FJ Hartland.
February 10: To Live is Deafening, by Sam Bassett.
February 13: Jerry's Pub, by Matther Croyle.
February 15: A Rollercoaster Ride Named Jane, by Eileen Davis.
February 16: The Art of Paring, by Brandon Siple.
February 18: Natural Aristocrat, by Carol Hamilton.
February 20: Silver Youth/Father, by William Brandstetter.
February 21: We Can Still Be Friends, by Robert Scott & Ken Levarse.
February 22: Two Halves, by Moshe Sherman.
February 24: Camp Life, by Robert Kreashko.
February 27: In A Sunday Minute, by Kim EL.
February 29: Dead Weight, by Joseph Talarico.