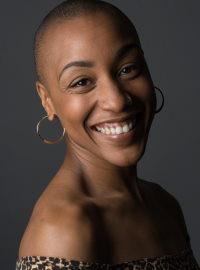 By Vie Boheme
Directed by Monteze Freeland
May 2021
Viva:BLACK [Volume 1] is an evening of song, dance, poetry and performance art thematically presented through a series of vignettes. The show aims to sift the elusiveness of Black Girl Magic. It is historically charged, reflective of today's social political landscape and candidly shared.
Our May 2021 production, Viva:BLACK [Volume 1], is a one-woman show written by and starring Vie Boheme.
Vie Boheme is a Motown native who blossomed creatively in Pittsburgh and refined in Minneapolis. She is a multimodal artist; a dancer, singer and choreographer. She brings athletic agility to her vocal performance by singing and dancing in unison, eliminating the boundary between the visual and audio experience. Her sound is a fusion of Soul, Funk, Jazz, R&B and Pop. Her lyrics mix vulnerability with authenticity that beautifully snaps the listener back to reality.
She is a former vocal artist, choreographer and co-creative director for Stokley Williams, front man of Mint Condition gone solo. She is also a former dance artist with Camille A. Brown & Dancers, TU Dance and a founding member of The August Wilson Center Dance Ensemble (Top 25 to Watch, Dance Magazine, 2012). She has choreographed and performed with the St. Paul Chamber Orchestra, The Guthrie Theater with The Moving Company and she has also choreographed for The Children's Theater in Minneapolis, MN. While with the August Wilson Center Dance Ensemble she traveled with the US Embassy to teach and perform in Suriname in South America. Vie was trained at Point Park University's Conservatory of Performing Arts and the Ailey School. Over the course of her career she performed the works of Kyle Abraham, Gregory Dolbashian, Dwight Rhoden, Uri Sands, Darrell Grand Moultrie and Sidra Bell. She is also a soul, funk, jazz vocalist and has opened for international acts Little Dragon, Bilal and J*Davey.
This production will feature both online and in-person ticketing options. A very limited number of in-person tickets will be sold (if conditions at production time permit), and then each filmed production will be available for online viewing. Tickets for online viewing will be available in March 2021. Specific dates and details on in-person tickets will be announced later. Read more about how our online season will work.
Online tickets for each show are $25, and a full season online subscription to all five plays this season is $99. You only need to purchase one ticket per household. You can donate now to support our new season.