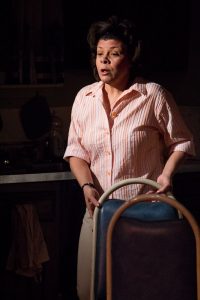 Ma Noah, by Mark Clayton Southers, Directed by Tracey Turner. Ran April 27 – May 12, 2013.
With Chrystal Bates, Cheryl Bates-White, Heaven Bobo, DeVaughn Robinson, Trevor Butler.
Preview: Pittsburgh Magazine
Reviews: City Paper, Post-Gazette, Tameka Cage Conley, Hotep the Artist
Video interviews: Playwright Mark Clayton Southers, Actor Chrystal Bates
"A Class All Its Own": How Mark Clayton Southers' Ma Noah Is Challenging Black Theater
by Tameka Cage Conley, PhD
Originally posted on Facebook
One might best describe Mark Southers' award-winning play, Ma Noah, as a story that merges the best components of 1970s African-American sitcoms, the legendary work of August Wilson, with the accessibility of Tyler Perry's stage and theater productions. The play is at once wildly entertaining in its offering of side-splitting humor, yet Southers drops critical, conscious, modern thought into the script, as the characters explore race, class, and social issues that affect them individually and as a family. To have penned a script that challenges the socio-cultural environment that forces main character and mother "Rebecca Pratt," to use extreme measures to keep her family intact in a way that demonstrates the seriousness of the family's plight without being depressing is a worthy feat. With Ma Noah, Southers challenges the idea that Black theater exists on an "either/or" plane: either the brand of "high art" in the tradition of Wilson, Hansberry, and Baraka, or "low art," in the tradition of the "after-church" plays of Perry and others.
In Ma Noah, there is something for all, rooted in Southers' ability to create a unique, engaging plot that celebrates the Black mother, from her ingenuity and craftiness, to her heart-wide-open generosity and forgiveness, to her steeliness and unflinching sense of justice. Yet, this is a play about the human experience as much as it is about a struggling family headed by a determined matriarch, namely because of the focus on hope in the face of hopelessness, the triumph of the human spirit and, above all, the sacred bonds of family. The characters seem to be in a constant push-and-pull, caught between their past, present, and future and the trappings of their economically depraved environment, with "Rebecca," masterfully played by Chrystal Bates, at the helm, guiding the family to success and teaching them, even in their adulthood, the difference between right and wrong and their glorious potential to be great in the world, despite their struggles.
In its own way, Ma Noah suggests that just as the Black mother keeps her family intact, so has the Black woman been the backbone of American society in a historical context. Take a look at the White House, then take a look at what's happening at Pittsburgh Playwrights Theater. Many Americans love our President. Yet so many have fallen in love with Michelle Obama, who handles being a mother to her daughters and the role of First Lady—which, in essence, is like being "First Mother" to the United States—with unparalleled grace, beauty, elegance, class, and confidence. With every step of her purposeful kitten heel pump, we want Mrs. Obama to succeed. We applaud and cheer for her, just as we applaud "Rebecca Pratt," who at the end of the play, stands wrapped in light, regal in red, cloaked in justice.
Go see this play and take someone you love. You won't regret a moment, as you laugh, snap your fingers, and wonder how you, too, can make the world a bit more livable, a bit less gray with our blues and woes.
Tameka Cage Conley, PhD
Literary Artist
2013