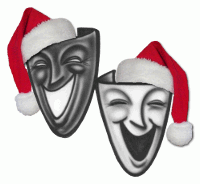 The Tenth Annual Theatre Festival in Black and White: Holiday Edition!, Pittsburgh Playwrights' signature event. Festival Ran December 5th through 17th, 2013.
Just Jesus, by Marlon Erik Youngblood, directed by Kaitlin Mausser. With Lesely Crawford, Ife Foy, Leo Beatty, Amaru Williams, Eugene Banks.
True Meaning, by Andrew Ade, directed by Rita Gregory. With Tonya Lynn, Adam Rutledge, Tonia Marie. Video: playwright and director discuss the play.
And To All A Good Night, by Lissa Brennan, directed by Cheryl El Walker. With Jamilah Chanie, William "Bill" Blair, Sara Fisher, Willa Cotten, LaMar Darnell.
St Clair Xmas, by Wali Jamal, directed by Marcus Muzopappa. With Wali Jamal, Paul Guggenheimer, Judy Kaplan, Deborah Starling, Charles E Timbers Jr., Art Terry, Mont Jones.
Cornucopia, by Tammy Ryan, directed by Ashley Southers. With Andy Kirkland, Laura Hoffman, Aliya Sims, Candace Walker.
We Need A Ramadan, by Aasiyah El-Rice, directed by Vince Ventura. With Candace Walker, Mayme Williams, Sam Lothard, Camille Washington, Vince Ventura.
Hanukkah in the Back Country, by Judy Meiksin, directed by Kim El. With Tonya Lynn, Christine Marie, Shenita Williams.
Where I First Saw The Light, by Dr. Tameka Cage Conley, directed by T.C. Brown. With Dionysus Westbrooks, Ben Blazer, Jonas Chaney, Barney McKeena.
Christmas Star, by Ray Werner, directed by Monteze Freeland. With Trevor Butler, Les Howard, Marcia L. Jones.
An Ubuntu Holiday, by Kim El, directed by Stephen Santa. With Crystal Beatty, Larry Scott, Candace Walker, Nia Washington. Video: playwright and director discuss the play. Video: Watch this full one-act play.
Reviews: Post-Gazette, City Paper, New Pittsburgh Courier
Followups: Post-Gazette, City Paper
Audio interview: Essential Pittsburgh, WESA 90.5
Awards coverage: Post-Gazette
View the Festival program booklet (PDF)
View our video ads with Ray Werner and with Kaitlin Mausser