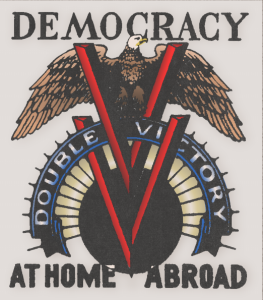 By Carole Eglash-Kosoff
Directed by Mani Bahia
At the Trust Arts Education Center, 805 Liberty Avenue, 4th floor
May 14th-29th, Thursday through Saturday at 8 PM, Sundays at 3 PM (preview May 13th)
In 1942, the Pittsburgh Courier newspaper published a letter by a 26-year-old reader, titled "Should I Sacrifice to Live 'Half American?'" and relating how he had been beaten while trying to enlist. The paper responded by starting a campaign to highlight the risks African-American soldiers were taking in World War II, while being denied their rights at home, and called for a victory not only over "aggression, slavery, and tyranny", as in the original V For Victory slogan, but also for a victory over racial inequality in the USA. A Pittsburgh premiere.
The Double V runs about two hours including one intermission.
Read the online program for more about this production and the Double V campaign.
US Premier of "The Double V" set for May 14th
By Genea L. Webb
Writer Carole Eglash-Kosoff loves history, so when she learned about the Double V Campaign, she knew it was a story she wanted to tell.
Early in 1942, a young Negro tries to enlist in the Army. As a result, he is beaten and told that it is a white man's war. Frustrated from this first experience with racism, the young man pens a letter to the Pittsburgh Courier, one of the nation's oldest Black newspapers. The letter, titled, "Should I Sacrifice to Live Half American?" spurred the paper to start a campaign to shed light on the risks that Black soldiers were taking in World War II while being denied their rights on American soil, and called for a victory not only over aggression, slavery and tyranny like in the original V for Victory slogan, but also for a victory over racial inequality in the United States.
"I learned about the Double V from a friend, and I started researching it. I got intrigued because it seemed like it was forgotten in history. This young man wrote this letter and set a pattern for a whole generation. He lit a fire and ignited a movement," said Eglash-Kosoff, who wrote The Double V as a play in early 2019. Once the Coronavirus pandemic hit, Eglash-Kosoff wrote the play as a book (which was published in early 2021) but still shopped around for theaters to put the play up.
Enter Mark Clayton Southers, Founding and Artistic Director of the Pittsburgh Playwrights Theater.
"What I liked about The Double V is that I was excited to see a play about the New Pittsburgh Courier. I worked at the New Pittsburgh Courier from the age of 18 to 30 as a photographer and it helped shape my life. It was great to see Frank Bolden in the book and the play, who I knew personally," said Southers.
The Pittsburgh Playwrights Theater will be presenting The Double V on the fourth floor of the Trust Arts Education building, 805 Liberty Avenue, for three weekends—Thursdays through Saturdays at 8 p.m. and Sundays at 3 p.m. from May 14th to 29th.
"The Double V is an eye-opener to what was going on back in the 1940s during World War II," explained director Mani Bahia. "There was a lack of justice for the Black soldiers that fought for their country and weren't treated as citizens. It speaks to the long, ongoing fight between Black Americans and the rest of America."
The Double V stars Nickolas Page as Ira, the editor-in-chief of the Pittsburgh Courier newspaper; Jamaica Johnson as eager female reporter Madge; Elexa Hanner as Annie; Dionysius Akeem as Jimmy Thompson; Ryan Bergman as FBI agent; Marcus Muzopappa as Charlie; Boykin Anthony as Frank Bolden; and Matt Southers Jr. as Joe/Chris.
Tickets are $27.50 for general admission; $20 for seniors and students with ID. Tickets for preview shows are $15.
"The Double V shows that we were willing to fight for our country like everyone else," Bahia said. "I'd have people ask themselves what we are going to do as a country to change how people are treated?"
Double V Design by Wilbert Lewis Holloway