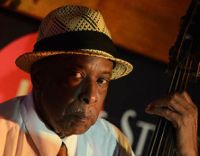 Dinah, a dazzling play about the legendary blues singer Dinah Washington, ran from March 14 – April 5, 2015.
Written and Directed By Ernest McCarty
"An upbeat celebration of an American artist."
– Sharon Eberson, Pittsburgh Post-Gazette (review)
"It's great songs sung by a wonderful singer backed up by a terrific band."
– Ted Hoover, City Paper (review)
"Flowers nails it with her strong, nuanced voice…. Dinah is a showcase of local talent…a dazzling revue."
– Denise Johnson, New Pittsburgh Courier (review)
"Flowers…brought Dinah Washington to life. Each number was a beautiful and respectful homage to Dinah and her work."
– Lonnie The Theatre Lady, Burgh Vivant (review)
Ernest McCarty is both director and playwright of this play set during the last year of the short life of the remarkable woman called the Queen of the Blues. Dinah includes a riveting array of musical numbers and biographical vignettes.
This show provides a powerful insight into the tragic and often controversial life of one of the most popular African-American singers of the 1950s.
Featuring Delana Flowers, Les Howard, Stephanie Akers, Leo Beatty, Cheryl El-Walker, and Ijazneem.
View the program booklet (PDF).