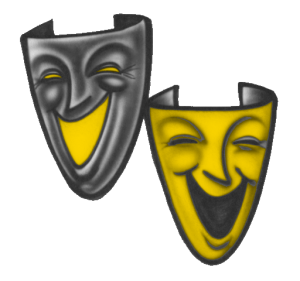 Part of the Three Rivers Arts Festival, June 3rd-12th
At the Trust Arts Education Center, 805 Liberty Avenue, 4th floor
Festival coordinator: R. M. Lawrence
PPTCO's signature Theatre Festival in Black & White returns with a selection of short plays, each paired with a director from a different background. The festival originally paired white playwrights with Black directors, and vice versa, but has expanded to bring together playwrights and directors who may have different religions, ethnicity, gender, sexual orientation, or access/disability needs, for example. This year's festival will also be an opportunity to showcase the talents who have been participating in our Ground Up Theatre training program, making the event a true building block of theatric development in Pittsburgh.
Co-presented with the Pittsburgh Cultural Trust as part of the Three Rivers Arts Festival, and free to the public! Each of the two programs includes three one-act plays, and each program runs about 90 minutes.
Performance Schedule
Friday June 3rd, 6pm – Program A
Saturday, June 4th, 3pm – Program B
Saturday, June 4th, 6pm – Program A
Sunday, June 5th, 3 pm – Program B
Sunday, June 5th, 6 pm – Program A
Wednesday, June 8th, 6pm – Program B
Thursday, June 9th, 6pm – Program A
Friday, June 10th, 6pm – Program B
Saturday, June 11th, 3pm – Program A
Saturday, June 11th, 6pm – Program B
Sunday, June 12th, 3pm – Program A
Sunday, June 12th, 6pm – Program B
Program A
Order in the House
By Daphne Salter-Austin
Directed by Lissa Brennan
The Harper family finds itself trying to cope with the sudden loss of the patriarch of the family. The grief is even more complicated as they have to say goodbye in the middle of a coronavirus pandemic when they realize he failed to leave his house in order.
The Janitor
By August Wilson
Directed by Matthew Southers Jr.
Sam, a mature gentleman janitor of a hotel, conjures a searing speech of lived experiences while on the job to an audience of none. Inspired by an advertisement for the "National Conference on Youth", he expounds on the deception of youth and maturity and the bridge between mortality and bitterness.
The Political Evolution of Butterbean the YouTube Star
By Matt Henderson
Directed by Kim El
Butterbean is an adorable kitten whose owner loves making syrupy YouTube videos of him. But the more Butterbean's political awareness grows, the more Butterbean leverages the power of YouTube to wake up his fellow citizens. A revolution may be at hand.
Program B
Inside My Hijab
By Tabaraka Benion
Directed by Amy Landis
A collection of Mahasin's life stories and challenges of being a Black, Muslim woman in America. Her stories include memories of 9/11, embarrassing incidents at TSA, and misconceptions about her Islamic religion, told over the underscore of music and visuals in this story of resilience and truth.
Miles to Go: Tragedy in a Minor Key
By Charles E. Denk
Directed by R. M. Lawrence
Two musicians, one old, one rising, meet by chance in a Pittsburgh bar. The older, a contributor to the jazz scene of the 1950's, delivers a colorful but dark warning to the younger musician. Whether tragedy will be the final chorus is unresolved.
Musings Upon the Mending Wall
By Kath Donnelly
Directed by Dan J. Kirk
Two neighbors have just come together to repair a shared fence. They end up questioning why they repeatedly engage in repairing the fence before determining what will be the next step in their relationship.