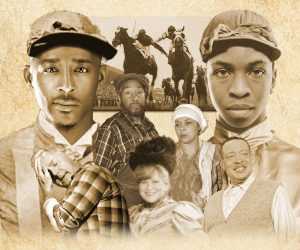 "Southers' play is triumphant. It's got plenty of humor in a taut, suspenseful drama…. twists that hit with audible gasps. A riveting evening of theater on the Hill."
– Michael Buzzelli, Burgh Vivant
By Mark Clayton Southers
Directed by Mark Clayton Southers
At Madison Arts Center, 3401 Milwaukee Street
October 7th – 29th, 2023
World premiere!
This world premiere drama about Black horse jockeys in the late 1800's is the latest installment in Mark Clayton Southers' 19th Century Collection of plays.
"A delight to watch and uncomfortable to witness…. It's wonderful when entertainment can also provide a venue for introspection."
– Mac Hoover, onStage Pittsburgh
Two Black horse jockeys (America's first professional athletes) compete for the inaugural running of the Bluegrass Mile. The year is 1899 and little do they know that the life they've come to love will never be the same. Set in a boarding home that holds history, secrets and a path to freedom, the Bluegrass Mile proves to be more than a race for prestige when the quest for truth becomes the ultimate prize.
The production ran 2 hours 35 minutes, including one intermission.
"I was blown away by this play. The writing was beautiful, creative and powerful. The actors were incredible, as always. The set and the costumes were incredible. I was moved to tears."
– audience member Kathy Slencak
Reviews: onStage Pittsburgh, Burgh Vivant, Entertainment Central, Pittsburgh Owlscribe
Featuring:
*Members of Actors Equity Association