A Gathering of Sons
Opera Theater of Pittsburgh is partnering with Pittsburgh Playwrights Theatre on Thursday 26 January to present a workshop of A Gathering of Sons.
Another Black man is shot by a white police officer, and we ask what comes next? How do we heal? How do we protect our children? How do we survive this state, this country, this world?
A Gathering of Sons takes us on a journey through the lives of a young Black man, a white police officer, a pair of Black parents, and a collection of spirits who watch over the world. The words express an experience of both loss and gain, and an understanding of the beautiful life flowing within all of us. It is a confrontation with history, and the way it breathes through the present. It is a conversation on our biases, and how we heal after tragedy. It is an eye towards freedom, and the work we need to do to reach it. It is full of magic. It is full of fear. It is full of hope, of pain, and still, an even more powerful love.
We will be performing segments of the opera, followed by a talkback with the performers, members of the creative team, as well as some selected panelists. Click for more details and to reserve a free seat.
CAPA Presents: Ma Rainey's Black Bottom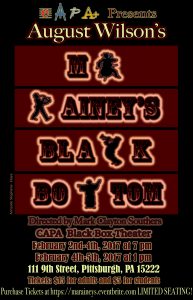 An American masterpiece, August Wilson's Ma Rainey's Black Bottom is a red-hot play filled with the ambition, culture, history, and music that made the '20s roar. Directed by renowned director Mark Clayton Southers and performed by CAPA students, Wilson's acclaimed Ma Rainey's Black Bottom is a show you will not want to miss!
Seating is limited. 100 seats per show. 5 shows only, February 2nd-5th. Please be sure to get your ticket soon! Recommended for audiences 13+. ​
February 2-5 2017
At CAPA's Black Box Theatre
111 9th Street
Pittsburgh, PA 15222
Subscribe to our 2016-17 Season!
As part of our mission to develop and showcase the works of local playwrights, Pittsburgh Playwrights Theatre Company is proud to present three World Premiere plays by local playwrights in 2017!

Subscriptions are now available for our 2017 Season of World Premieres! Save with one low $50 price for admission to all three shows! They make great gifts for the theatre fans on your list!
Findings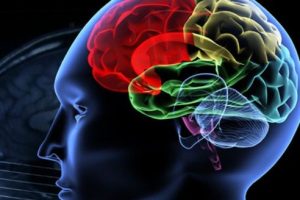 By Arlene Weiner
Directed by Lisa Ann Goldsmith
March 4th – 19th, 2017 – World Premiere!
Jennifer prides herself on being able to see every crisis as an opportunity. Can she keep on "bright-siding" when her doted-on daughter runs away, her sister's behavior threatens the family with ruin, and a secret from the past may burst into the open?
Lights Out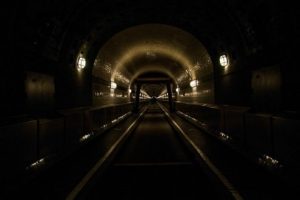 By Steve Hallock
Directed by Cheryl El-Walker
April 1st – 16th, 2017 – World Premiere!
A power outage that stalls a Pittsburgh trolley in a tunnel beneath Mount Washington on a late Friday night leads to a set of encounters among a train of strangers that spark fear, accusations, confessions, guilt, and love as the riders share thoughts of wisdom, philosophy, music and religion, mixed in with a few drinks and some jazz and blues riffs.
Hercules Didn't Wade in the Water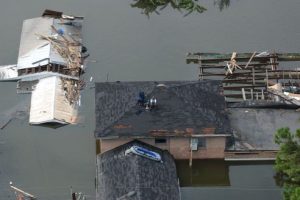 By Michael A. Jones
Directed by Wali Jamal
May 6th – 21st, 2017 – World Premiere!
It is 2005. Two men cling for life on a rooftop, surrounded by murky water, festered with disease and the unknown. Two women are hundred of miles away, striving to see their dreams of life, love and the pursuit of happiness come to fruition. All of this set against the threat of one of America's greatest disasters.
Help Us Grow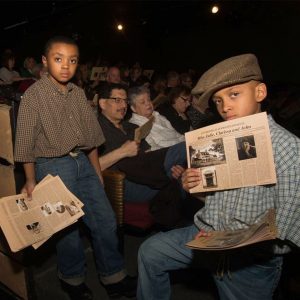 Pittsburgh Playwrights Theatre Company is committed to developing and showcasing the works of local playwrights; from accomplished masters like August Wilson and George S. Kaufman to promising new talents.
Keepin' up with Playwrights
Pittsburgh and St. Louis casts of Miss Julie, Clarissa and John meet in St. Louis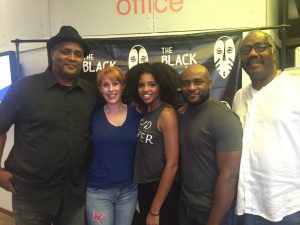 The Black Rep in St. Louis, the largest professional African-American theatre company in the nation, opened its 40th season with Pittsburgh playwright Mark Clayton Southers' Miss Julie, Clarissa and John. The production was picked up after its world premiere at Pittsburgh Playwrights Theatre in March 2016. Miss Julie received rave reviews both in Pittsburgh and St. Louis!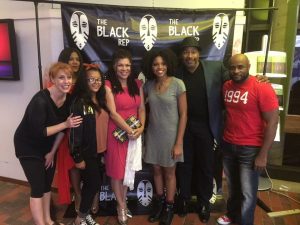 Veteran actors Crystal Bates (Clarissa) and Kevin Brown (John) from the first production of Miss Julie traveled to the Midwest to give support to the sophomore production and had an opportunity to see their characters played by different actors.
Playwrights hopes to keep the momentum going and see more productions of Miss Julie, Clarissa and John on national and international stages in the coming year. Check back for all the latest news and updates on where it's headed in 2017.
New 'Theatre Festival in Black and White' format targets middle and high school students with Bill Nunn tribute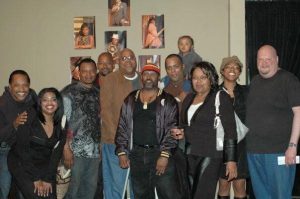 This year Pittsburgh Playwrights' Theatre Festival in Black and White takes on a new format. Students will submit original one-act plays, and if the student's script is selected, they'll work with our team to improve their scripts and then see them produced at Pittsburgh Playwrights during the Dollar Bank Three Rivers Arts Festival, directed by theater professionals.
This year's festival will acknowledge the work and life of the late, great Pittsburgh actor Bill Nunn, who also worked to bring arts education to youth. Bill Nunn has also collaborated with Pittsburgh Playwrights over the years.
Script submission details will be available on our website starting in early 2017.