"A thorough, caring production of a great play, directed with verve by Mark Clayton Southers."
– Christopher Rawson, Pittsburgh Post-Gazette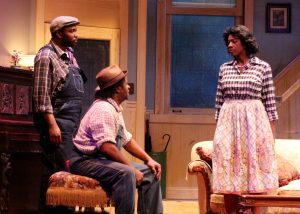 The Piano Lesson
By August Wilson
Directed by Mark Clayton Southers
November 13-21 2015
"[The audience's] warmth and enthusiasm [was] unsurprising…. Such a reception was warranted by the caliber of this production."
– Gerard Stanley Hornby, City Paper
August Wilson's 1990 Pulitzer-winning drama is set in 1936 Pittsburgh's Hill District. The Piano Lesson focuses on conflict between a brother and sister who differ on what to do with a family heirloom, a piano.  The brother, Boy Willie, is a sharecropper who wants to sell the piano to buy the land where his ancestors toiled as slaves. The sister, Berniece, remains emphatic about keeping the piano, which shows the carved faces of their ancestors during the days of their enslavement. Presented on the stage of the August Wilson Center.
The cast of The Piano Lesson includes Wali Jamal as Boy Willie, Karla C. Payne as Berniece Charles, Kevin Brown as Doaker, Edwin Lee Gibson* and Eugene Lee* as Avery, Garbie Dukes* as Wining Boy, Monteze Freeman as Lymon, Nia Woodson and Trysta Mirilei Fields as Maretha and Brenda Marks as Grace.
The creative team of The Piano Lesson also includes Stevie Akers (Assistant to the Director), Tony Ferrieri (Set Design), Cheryl Walker (Costume Design), Bob Steineck (Lighting Design), Mark Whitehead (Sound Design), LaMar Darnell Fields (Property Master), Randy Kovitz (Fight Choreographer), Steve Tolan (Special FX Master) and Marti Williams (Stage Manager).
"'Piano Lesson' packs quite a punch…. It's a lyrical, beautiful play."
– Mike "Buzz" Buzzelli, 'Burgh Vivant
Previews: Post-Gazette, Tribune-Review
Reviews: City Paper, Burgh Vivant, Pittsburgh Tattler, Post-Gazette, New Pittsburgh Courier
Interview with director: WESA FM
Download the program for The Piano Lesson to read or print.
* – Denotes a member of Actors Equity Association.
Production photos by Chris Chapman.