"A new play with the potential to fill a void of despair with uplift and hope."
– Sharon Eberson, Pittsburgh Post-Gazette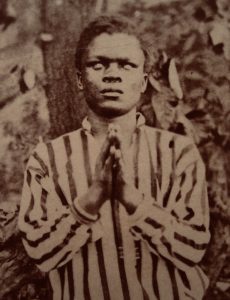 By Mark Clayton Southers
Directed by Monteze Freeland
Dramaturgy by Dr. Kyle Bostian
February 8th through March 16th 2019
At the Trust Arts Education Center, 805 Liberty Avenue
"The writing in Savior Samuel is so meritorious and captivating, I feel the play has an off-Broadway and pan-national theater future. See it now before it becomes famous."
– David Zuchowski, Pittsburgh Owl Scribe
In Savior Samuel, an African-American family is trying to survive in the Midwest circa 1877 when an unexplained event changes their lives as well as those who interact with them.
Savior Samuel is the second of Mark Clayton Southers' 19th Century series of plays exploring lives and themes of African-American life in the 19th century, following 2016's smash hit Miss Julie, Clarissa and John.
As our theatre space was renovated during 2019, this production was presented in the Pittsburgh Cultural Trust's Arts Education Center, Many Sunday matinees featured free talkbacks led by dramaturg Dr. Kyle Bostian following the performance. ASL and Tactile ASL interpretation was provided for certain performances.
Download the program book (PDF)
Reviews: Pittsburgh Owl Scribe, City Paper, Post-Gazette, Pittsburgh Current, Pittsburgh in the Round, Pittsburgh Tatler, Burgh Vivant
Previews: WESA FM (with audio), Post-Gazette (with video), KDKA radio interview, Pittsburgh Magazine, Trib Live, Trib video interview
The script for this play is now available in print on Amazon.
"A sprawling, extravagant play"
– Ted Hoover, Pittsburgh Current
With:
Production Photos
Produced with major support from the Pittsburgh Foundation.