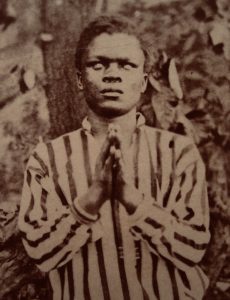 By Mark Clayton Southers
Directed by Monteze Freeland
Dramaturgy by Dr. Kyle Bostian
February 8th through March 16th 2019
At the Trust Arts Education Center, 805 Liberty Avenue
In Savior Samuel, an African-American family is trying to survive in the Midwest circa 1877 when an unexplained event changes their lives as well as those who interact with them.
Tickets are $20 for previews, $30 for the regular run. Student and theatre artist tickets are $20 at the door with valid ID only. Monday March 4th is Pay What You Can night, at the door only, or $15 in advance.
PayPal note: To pay without setting up a PayPal account, click "Don't have a PayPal account?" or "Pay with a debit or credit card, or PayPal Credit" on the next page. Then select the type of card you will use.
Sun
Mon
Tue
Wed
Thu
Fri
Sat

Feb/Mar 2019


At the Trust Arts Education Center
805 Liberty Avenue

Feb 8

7 PM Preview

Feb 9

7 PM Preview

Feb 10

3 PM Preview

Feb 14

8 PM Opening

Feb 15

8 PM

Feb 16

8 PM

Feb 17

3 PM

Feb 21

8 PM

Feb 22

8 PM

Feb 23

8 PM

Feb 24

3 PM

Feb 28

8 PM

Mar 1

8 PM

Mar 2

8 PM

Mar 3

3 PM

Mar 4

7 PM Pay What You Can

Mar 7

8 PM

Mar 8

8 PM

Mar 9

8 PM

Mar 10

3 PM

Mar 14

8 PM

Mar 15

8 PM

Mar 16

8 PM