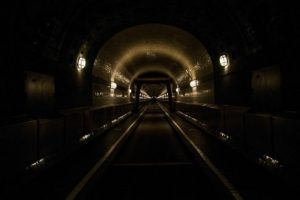 By Steve Hallock
Directed by Cheryl El-Walker
April 1st – 15th, 2017
World Premiere!
A power outage that stalls a Pittsburgh trolley in a tunnel beneath Mount Washington on a late Friday night leads to a set of encounters among a train of strangers that spark fear, accusations, confessions, guilt, and love as the riders share thoughts of wisdom, philosophy, music and religion, mixed in with a few drinks and some jazz and blues riffs.
Tickets are only $22.50, with no ticketing fees or surcharges. You will receive an email from us with a ticket to print and bring to the theatre. (No printer? No problem. Your name will be on a list at the theatre.)
PayPal note: To pay without setting up a PayPal account, click "Don't have a PayPal account?" or "Pay with a debit or credit card, or PayPal Credit" on the next page. Then select the type of card you will use.
Sun
Mon
Tue
Wed
Thu
Fri
Sat

Lights Out: April 2017


At the Pittsburgh Playwrights Theatre
937 Liberty Avenue, 3rd floor

Apr 1

8 PM Opening

Apr 2

3 PM

Apr 7

8 PM

Apr 8

8 PM

Apr 9

3 PM

Apr 14

8 PM

Apr 15

3 PM

8 PM