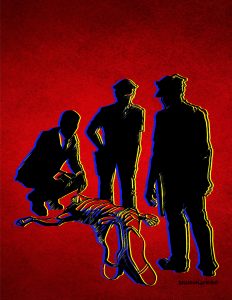 Adapted by Matt Pelfrey
Directed by Monteze Freeland
February 2nd – March 10th, 2018
"Extremely well-written, well-acted, well-directed. It's an important piece of theater."
– Michael "Buzz" Buzzelli, 'Burgh Vivant
Acclaimed playwright Matt Pelfrey's adaptation of John Ball's In the Heat of the Night based on the award-winning book that inspired the Oscar-winning film and the Emmy-winning television series.
It's 1962. A hot August night lies heavy over the small town of Argo, Alabama. A dead white man is discovered and the local police arrest a black stranger named Virgil Tibbs. The police learn that their prime suspect is in fact a homicide detective from California. As it happens, Tibbs becomes the racially-tense community's single hope in solving a brutal murder that is turning up no witnesses, no motives, and no clues.
"Unwavering in confronting the racism and violence that permeates the story."
– Sharon Eberson, Pittsburgh Post-Gazette
"A well-meaning and enjoyable 97-minute whodunit."
– Harry Kloman, City Paper
"The tension created by the townsfolk's inveterate racism coupled with the intriguing mystery narrative doubles the play's theatrical clout and emotional impact."
– David Zuchowski, Pittsburgh Owl Scribe
Reviews: Pittsburgh Post-Gazette, 'Burgh Vivant, Pittsburgh Owl Scribe, City Paper
With:
*Appears courtesy of Actors' Equity Association
Artwork by Brandon Jennings
Production photography by Christopher Chapman Sr.