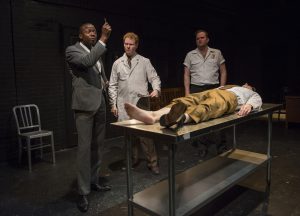 Adapted by Matt Pelfrey
Directed by Monteze Freeland
February 2nd – March 11th, 2018
Acclaimed playwright Matt Pelfrey's adaptation of John Ball's In the Heat of the Night based on the award-winning book that inspired the Oscar-winning film and the Emmy-winning television series.
It's 1962. A hot August night lies heavy over the small town of Argo, Alabama. A dead white man is discovered and the local police arrest a black stranger named Virgil Tibbs. The police learn that their prime suspect is in fact a homicide detective from California. As it happens, Tibbs becomes the racially-tense community's single hope in solving a brutal murder that is turning up no witnesses, no motives, and no clues.
Buy your tickets below, or save with a subscription! Tickets are $27.50 in advance, with no ticketing surcharges. Prices at the door are $5 higher than online prices.
PayPal note: To pay without setting up a PayPal account, click "Don't have a PayPal account?" or "Pay with a debit or credit card, or PayPal Credit" on the next page. Then select the type of card you will use.
Sun
Mon
Tue
Wed
Thu
Fri
Sat

February-March 2018


At the Pittsburgh Playwrights Theatre
937 Liberty Avenue, 3rd floor

Feb 2

8 PM

Feb 3

8 PM

Feb 4

3 PM

Feb 9

8 PM

Feb 10

8 PM

Feb 11

3 PM

Feb 16

8 PM

Feb 17

8 PM

Feb 18

3 PM

Feb 23

8 PM

Feb 24

2 & 8 PM

Feb 25

3 PM

Mar 2

8 PM

Mar 3

2 & 8 PM

Mar 4

3 PM

Mar 9

8 PM

Mar 10

2 & 8 PM

Mar 11

3 PM