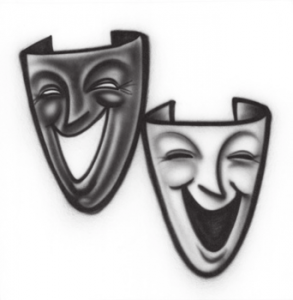 Our signature one-act theatre festival returned for its twelfth year with another selection of entertaining short plays. We scheduled it in conjunction with the Dollar Bank Three Rivers Arts Festival, so you could come downtown and catch both. It ran June 4-11, 2016.
All performances were FREE to the public!
The Plays
Crossing Sacred Lines, by Michael Curry, directed by Brett Sullivan Santry. Drama. Two young men, Donovan and Solomon, are pledging the top campus fraternity, but disagree on how to respond to a hazing incident. Starring Devaugh Robinson, Lyn Starr. (Strong language)
Stay, by Ray Werner, directed by Cheryl El-Walker. Comedy. A married couple, Bella and Maxie, are attending Pittsburgh's Fuzzy Convention in costume, but encounter the Ace Hotel's strict rules regarding pets. Starring Brenna Conroy, Philip Fry, Alexandra Lenihan, Scott Vickinovac.
No Winners, by Daphne S. Austin, directed by Christine Marie. Drama. The loss of a child to senseless gun violence affects both the family mourning the death and the family of the guilty party. Starring Shanita Bivins, Christian Carter, Shenita Williams.
Mental Case, by Kim El, directed by Andrew Huntley II. Science Fiction Drama. A sci-fi geek accused of mass murder has a bizarre and otherworldly explanation for his detective friend. Starring Ian Insect, Christine Marie, John Seibert, Leslie Ezra Smith.
Vows, by F.J. Hartland, directed by Stephanie Akers. Comedy. A young couple is given a glimpse into their future married life. Once they see what's ahead, will they still take their vows? Starring Natashia Burton, Christine Marie, Jomo Ray.
Home Again, Home Again, by Nik Nemec, directed by Wali Jamal. Comedy. After his boyfriend dumps him and kicks him out, Teddy has nowhere to go but his grandmother's home. Starring Hazel LeRoy, Nik Nemec, Noah Zamamiri. (Strong language)
Festival Coordinator: Eric A. Smith
Festival Artistic Associate: Monteze Freeland
Support for the Theatre Festival in Black and White was provided by: