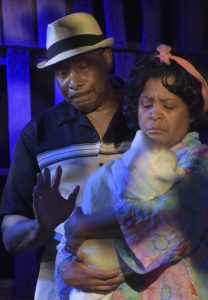 By August Wilson
Directed By Mark Clayton Southers
May 9–30 2015 Extended through June 7 2015!
"A vivid tale of societal struggle and family conflict, transformed by love…Scenes crackle with tension." – Christopher Rawson, Post-Gazette
Returning to familiar ground, Pittsburgh Playwrights artistic director Mark Clayton Southers directs August Wilson's Pulitzer Prize-winning masterpiece Fences, running May 9 – May 30. Just announced: One week extension through June 7th!
The production reconfirms Southers and Pittsburgh Playwrights Theatre Company as among the foremost interpreters of the work of Pittsburgh's most famous playwright.
Set in the 1950s, Fences evokes the early rumblings of the civil rights movement. The central character is Troy Maxson, a middle-aged resident of Pittsburgh's Hill District. The play follows Troy's struggle to accept the generational changes that allowed his son to succeed in ways Troy never could.
Featuring Kevin Brown, Bryant Bently, Lemiah Cross, Sandra Dowe, Wali Jamal, Carter Redwood, Maurice Redwood, Nia Woodson, and Anthony Chisholm.
Read the program booklet (PDF).
Reviews: Post-Gazette, City Paper
Preview: Post-Gazette, Post-Gazette (poster/program artist info)