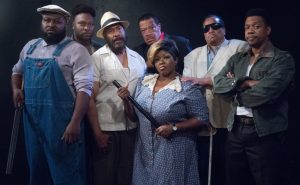 By Eugene Lee
Directed by Montae Russell
September 29th – November 5th, 2017
It's summer, 1955, in the piney woods of East Texas where local men wander into Charlesetta's Top o' the Hill Cafe almost every night for comfort, solace and companionship. Times are changing, the Klan is active and young black men have been disappearing or turning up dead. This night, Delmus wants to celebrate getting a new job but the other regulars are skeptical. They try to warn him as they joke, feed the jukebox and play cards until betrayal catches all of them and life at Top o' the Hill is changed forever.
Buy your tickets below, or save with a subscription! Tickets are $30 in advance, seniors (60+) and students $27.50, with no ticketing surcharges. Prices at the door are $5 higher than online prices.
PayPal note: To pay without setting up a PayPal account, click "Don't have a PayPal account?" or "Pay with a debit or credit card, or PayPal Credit" on the next page. Then select the type of card you will use.
Sun
Mon
Tue
Wed
Thu
Fri
Sat

September-November 2017


At the Pittsburgh Playwrights Theatre
937 Liberty Avenue, 3rd floor

Sep 29

8 PM

Sep 30

2 & 8 PM

Oct 1

3 PM

Oct 6

8 PM

Oct 7

2 & 8 PM

Oct 8

3 PM

Oct 13

8 PM

Oct 14

2 & 8 PM

Oct 15

3 PM

Oct 20

8 PM

Oct 21

2 & 8 PM

Oct 22

3 PM

Oct 27

8 PM

Oct 28

2 & 8 PM

Oct 29

3 PM

Nov 3

8 PM

Nov 4

2 & 8 PM

Nov 5

3 PM
East Texas Hot Links cast photo by Gail Manker