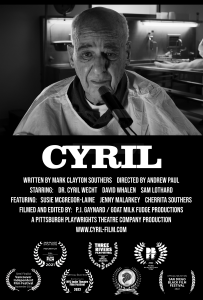 Written By Mark Clayton Southers
Directed by Andrew Paul
Our filmed adaptation of Cyril premiered at the Three Rivers Film Festival on November 12th 2021!
World-renowned forensic pathologist Dr. Cyril Wecht plays himself in this film, offering detailed and contrarian insights on some of America's most brutal and provocative cases, as he's interviewed for a documentary. As he presents his often-controversial views on cases ranging from the JFK assassination to the OJ Simpson case to JonBenet Ramsey's murder, it's the morning after George Floyd's murder, and behind the camera, long-standing disagreements between the conservative white interviewer and liberal Black cameraman threaten to boil over.
Cyril has been selected by these film festivals, with more to come:
Three Rivers Film Festival (Pittsburgh PA), world premiere on November 12th, 2021
Capital City Black Film Festival (Austin TX), December 3 – 5, 2021; 2nd Place: Amplify Award
Denton Black Film Festival (Denton TX, moved online), January 27 – February 6, 2022 ; Winner: Best Narrative Feature
NYC Indie Theatre Film Festival (New York NY), screened online February 14 – 20, 2022
San Diego Black Film Festival (San Diego CA), April 27 – May 1, 2022
National Black Film Festival (Houston, TX), June 8 – 11, 2022, screened in Houston on June 11th
Charlotte Black Film Festival (Charlotte NC), June 23 – 26, 2022, screened online
Watch our April 11th 2021 Q&A with the cast and crew of Cyril from our Facebook page. Join our email list for the latest news on our first full-length feature film's journey. Check out our Cyril film website for more.
You can donate now to support our season.
Starring:
Dr. Cyril Wecht
David Whalen
Sam Lothard
Featuring:
Susie McGregor-Laine, Jenny Malarkey & Cherrita Southers
Filmed and Edited by:
P.J. Gaynard / Goat Milk Fudge Productions
Press coverage: Pittsburgh Post-Gazette, Pittsburgh Jewish Chronicle